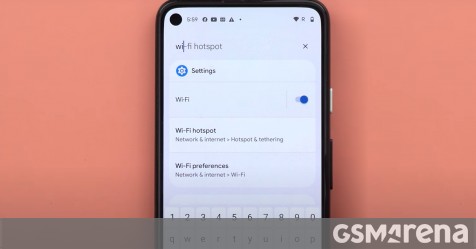 Android 12 has a cool system-wide search feature that is not yet active
Although some Android manufacturers have implemented system-wide search on their devices, it is not part of the main operating system. That is about to change with Android 12 as the beta 4 for Pixel phones supports it, although this feature has yet to be officially released. It seems that the work is still in progress because it seems incomplete.
At the moment you can only access it through the search bar in the app drawer, the search widget on the home screen still uses the old search function. For the app drawer, a cool new option can bring up the keyboard every time you open the app drawer, letting you instantly start typing to find what you're looking for.
Here's the system-wide research in action:
System-wide search on the device can browse the following: shortcuts (for apps and people), people (contacts, but also chats with them), settings (including toggles and others commands) and tips. You can turn off each category individually if you don't want it in the results.
Google is apparently trying to add even more search categories, but it doesn't look like it's ready for prime time. The functionality itself is also not fair. Still, it's something iOS users have enjoyed for years and will be a great addition to Android.
There is a way to enable system wide search, although it only works on rooted pixels and you need a Magisk module developed by kdrag0n, which is available for the developer. Patreon supporters.