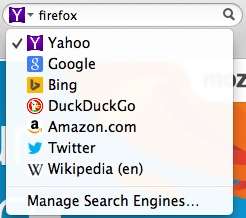 Mozilla abandons Google for Yahoo as default search – Software
Google will no longer be the default search engine for the open source Firefox browser, after Mozilla Corporation announced its partnership with Yahoo for the next five years.
The new CEO of Mozilla Corporation, Chris Beard, revealed yesterday that there will no longer be a single global search provider for the browser. A range would be made available, he said, with Yahoo at the top of the list.
Google has been the default search engine for the Mozilla Firefox web browser since 2004. The agreement expired this year.
Beard alluded to friction between Mozilla and Google – which has gained market share in Firefox with its Chrome web browser – saying "we have taken this opportunity to review our competitive strategy and explore our options."
Firefox users fuel more than 100 billion search engines each year, Beard said.
Yahoo chief executive Marissa Mayer has vowed to "build a clean, modern and immersive search experience" for Firefox, but did not provide further details.
Mayer said the partnership with Mozilla was the most important for Yahoo in five years and that it would provide a long-term framework for future product integrations and international market expansion.
The Mozilla / Yahoo partnership will begin for users in the United States in December of this year, and the rest of the world will follow in 2015.
Google, Microsoft Bing, and the anonymous search engine DuckDuckGo will continue to be alternatives in Firefox.
However, for Russia, Firefox will use the local search engine Yandex and Baidu in China by default. Yahoo will not be offered in these countries.
Although browser usage statistics are imprecise due to factors such as user agent impersonation, most sources consider Chrome to be the leader of the pack with almost 50% market share. .
The once dominant Firefox has fallen out of favor with users and now has a market share of less than one-fifth, lower than Microsoft's Internet Explorer.